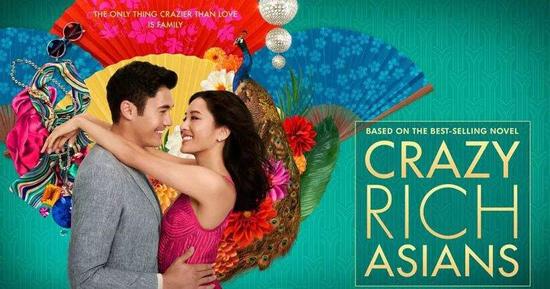 Poster of "Crazy Rich Asians."
"Crazy Rich Asians", the first Hollywood blockbuster with an all-Asian cast since 1993, premiered on the Chinese mainland on Friday.
The film, with a 30-million-U.S.-dollar budget, has already earned 230 million U.S. dollars in global box office before landing in the Chinese mainland. It topped the North American box office over the summer.
Its popularity in Hollywood is in part due to its all-Asian cast, as well as its depiction of the Asian community in the United States.
The film is a romantic comedy adapted from a best-selling novel by Kevin Kwan about Singapore's wealthy elites.
Directed by Jon M. Chu, the film also stars Constance Wu and Henry Golding. Malaysian actress Michelle Yeoh, well-known in China for her role in the Chinese Oscar-winning martial arts film "Crouching Tiger, Hidden Dragon", is also in the cast.
Now, with the film's debut in the world's second-biggest movie market, many have been wondering whether it could also sweep the mainland box office.
The film received 6.2 on Douban.com, a Chinese film review website.
It seems that not all Chinese moviegoers are taken by the story, as the comments suggest. Most Chinese viewers said it is still a typical Hollywood story, only with an Asian-cast.
"This is a story about a bunch of whites pretending to be Asians," reads one of the most-liked comments on Douban.com.
"If the film is expected to change the Westerners' Asian stereotypes by giving them a more Westernized background, from this point of view, it is a success," reads another comment, "but in its essence, it is still the Western values that are at play."
But there are also supporters.
"It is the first all-Asian cast film of Hollywood in 25 years, and it is indeed interesting. What the film means to Asian Americans is what 'Black Panther' is to the African American community. I would definitely support it," one netizen commented.